PTFE Pall Rings, Gujarat, India.
PTFE Pall Rings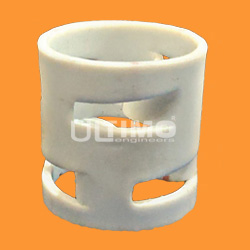 Send Enquiry
Excellent chemical resistance. Resistance to almost all organic chemicals, acids & alkalis. This also includes Hydrofluoric Acid (HF), Fluorinated Chemicals, Bromine (Br2) and Brominated Compounds.
Chemical resistance of PTFE is almost universal within temperature limits.
We use virgin PTFE raw material for the manufacturing of PTFE pall rings
No recycled or reprocessed PTFE raw material is being used.
PTFE PALL RINGS can be used for the distillation or scrubbing of highly corrosive or highly pure chemicals and bulk drugs & Pharma intermediates.
PTFE PALL RINGS are suitable for CS PTFE Lined Distillation Columns, PTFE Lined Distillation Columns, PFA Lined Distillation Columns or Gas Scrubbers, PTFE coated Distillation Columns, PFA coated Distillation Columns, FEP coated Distillation Columns or Scrubbers and Glass Lined Columns or Gas Scrubbers.
PTFE PALL RINGS can handle corrosive chemicals in Pharmaceutical, Bulk Drugs, Organic Chemicals; Inorganic Chemicals Include Bromine and Bromine Derivatives, Chlorine & Chlorine Derivative, Fluorine & Fluorinated Derivatives.
Temperature limit: suitable up to 200ºC (write to us as it may vary with different chemicals).
Available size: 25mm PTFE Pall Rings, 38mm PTFE Pall Rings, 50mm PTFE Pall Rings, 75mm PTFE Pall Rings, 100mm PTFE Pall Rings.
Technical Data
| | | | | |
| --- | --- | --- | --- | --- |
| Size | Nos. / Cu.m. | Surface m2 / m3 | Voidage % | Packing Factor F |
| 25 mm | 51,000 | 210 | 89 | 52 |
| 38 mm | 13,500 | 135 | 90 | 32 |
| 50 mm | 6,500 | 100 | 92 | 25 |
| 75 mm | 1,800 | 92 | 93 | 20 |
Question For Our Products? Feel Free To Ask Contact Us Now